WEDDING PHOTO LOCATIONS SYDNEY
There are so many sensational Wedding photo locations in Sydney . We really are so lucky.  There is every possible look a bride and groom could hope for. Beaches, sandstone walls, old sandstone buildings, the iconic bridge and opera house. Some amazingly beautiful green parks amongst some ultra modern architect.
I'm going to short list my favourite 20 wedding photo locations in Sydney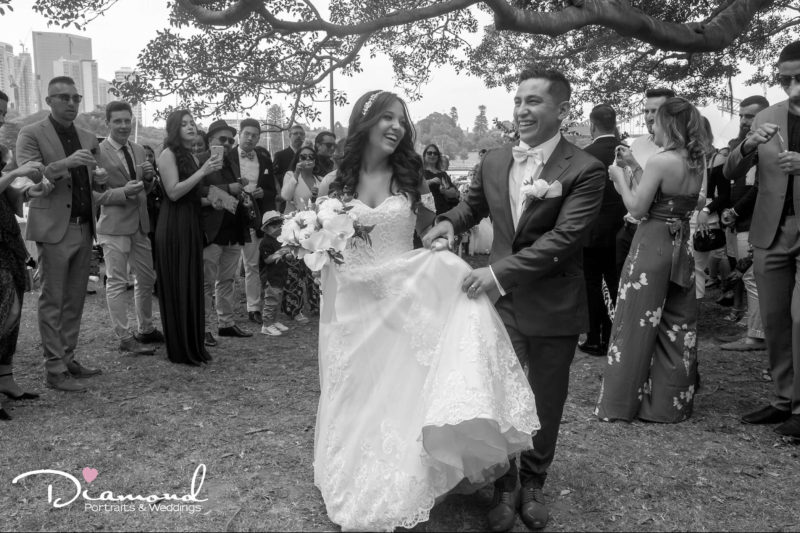 1. The Botanical Gardens.
The most traditional looking park with the most amazing views! This is very popular for garden weddings and photo sessions.  Luckily, its huge, so can accommodate lots of weddings in one afternoon. You do need to pay a fee to have your ceremony/photos here, and they do patrol the area quite strictly. Hence its best to book this area with the local council to avoid disappointment.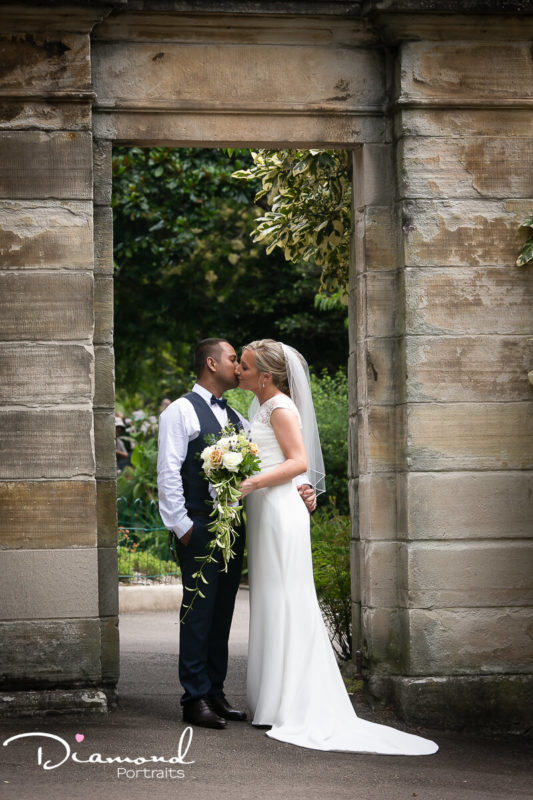 2. Campbells Cove.
Situated outside The Park Hyatt. Talk about majestic views, the bridge, water, and opera house all within view! One thing to take note of,  this is where those huge overseas ships dock. So check the schedule before attempting photos there, when a ship is docked it's really super busy!
3 Hyde Park:
What doesn't this place have? I think this is up there with one of my favourite Sydney locations. Amazing greenery, paths with the cutest of lamp posts that for some reason remind me of New York. The fountain is always a popular stop for photos as well. St Mary's Cathedral in the background looks utterly amazing. One place people often don't venture to, is the far end of Hyde park, its so pretty! The lawns are manicured to perfection. So if you have some stamina, use the whole area. I could photograph here for days!
 4. St Mary Cathedral,
A little spin-off from Hyde park if I'm being truthful. The architect is divine, and completely and utterly gorgeous from Hyde Park which is just across the road 😉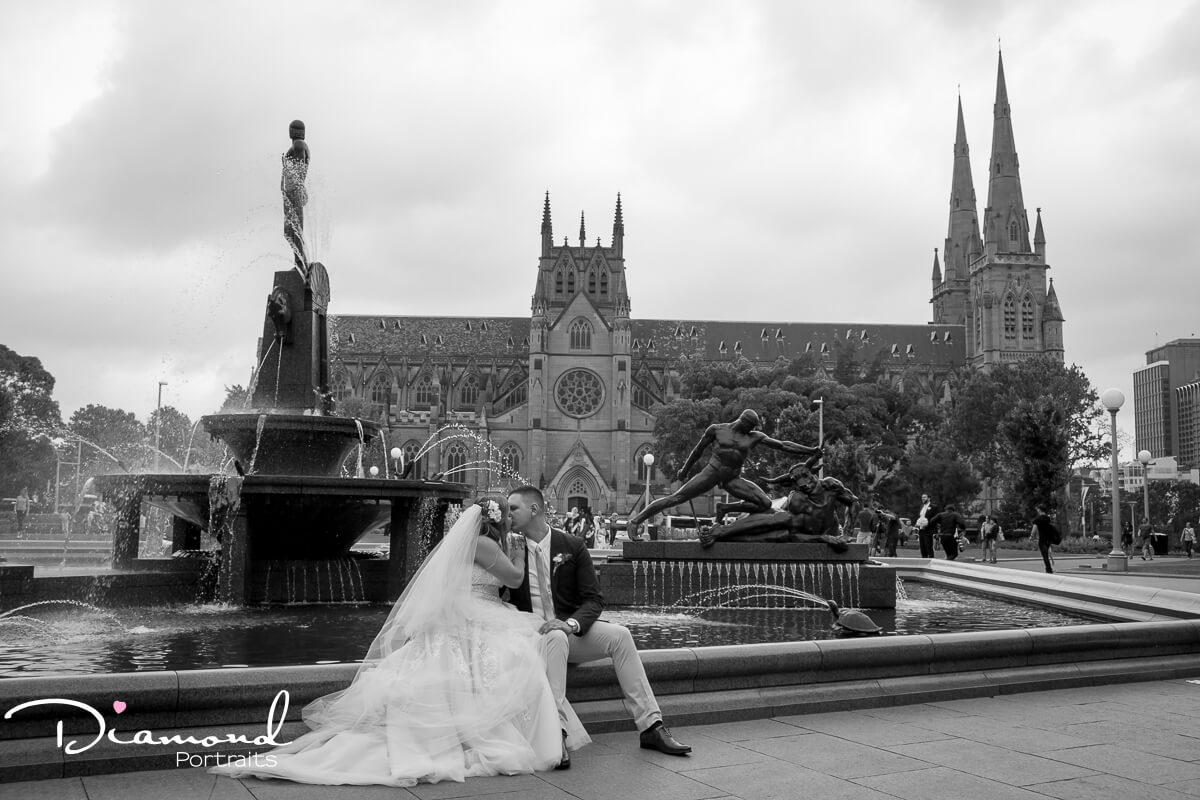 5. Centennial Park.
Glorious! The Cutest of white-painted bridges amongst whitebark gum trees, ponds, willows, and gorgeous flora. Even better, stop into the centennial park cafe, for a coffee or cider! A great little rustic backdrop for your photos.
6. Observatory Hill.
Ok, this one fights with Hyde park for my fav location! It's like you are on top of all of Sydney. The views from the hill make the cutest of backdrops. Walk around the back of the park and you have the "Observatory", a divine old world-building that looks spectacular (can't actually enter the place) but the gated paths and large sandstone brickwork is awesome. You can also access the harbour bridge from this point as well. Like you can literally walk on the bridge! And best of all, easy parking and rarely any city congestion.
7. Opera House.

No explanation needed really. Just a magnificent view. Usually busy but this gives images a real city feel. Its really conveniently located right on the Botanical gardens border, so what I love about this is, within minutes and a short stroll, you can be in one of Sydney's most divine gardens. And best of all, it's in complete contrast, so wedding photos will have the best of both worlds. You definitely need to book. Security guards are on post always.
8. Harbour Bridge.
The bridge can be accessed from many vantage points, and looks spectacular from so many locations. But if you want to get up close and personal Hickson Rd is definitely the place to go. Right next to the Park Hyatt. If you want to get on it, literally you can actually access the cycleway from Observatory Hill. I think these images with all the steel look amazing in Black and white
9. Chinese gardens Darling Harbour.
Super traditional, well-groomed gardens, that also have undercover areas. So a great wet weather plan too. Must be booked through the council though. A real popular location for the ceremony and formal photos if your venue is in Darling harbor, walking distance to everything. Admission fees apply
10. Door 64  in the heart of The Rocks.

The closest street is Cumberland street, just a short work to this spectacular old settler looking backdrop. Like most spots in The Rocks, it has that vintage rustic feel, heaps of character. No photo permit required.
11. The streets of the Rocks, in Sydney.
The back streets of the rocks are so photogenic! If you're going to have a city wedding, you just need to have some sandstone backdrops I say. And the rocks doesn't disappoint. Ladies I suggest bringing some flats to walk around, it's well worth it. Within a few blocks of Argyle street, there are so many cool alleyways and stairwells that are just begging to be photographed!
12. QVB
Yes def need to book but an awesome wet weather location back up. It's really popular for those who are having their wedding in the tea rooms.
If you prefer to have photos indoors or if it happens to be raining on your wedding day, then the QVB is a beautiful place to have indoor wedding photos that are more than just walls. Grand staircases, stained-glass windows, and the height allow for a lot of backdrops and variety for your wedding photography.
13. Balmoral Beach north side.
Ok so not in the heart of the city but its just a short drive over the bridge. If you are having a  city wedding and desperately love the sand and water then Balmoral is probably your closest option. And it really does have a lot to offer in the one spot. Sand, water, beautiful sunsets, sandstone bridges, and a large picturesque gazebo.
14. Hickson Park. Right near the Hyatt
Offers a 180-degree view of the city skyline, opera house, Luna park, and Sydney Harbor Bridge Bridge. Pretty wooden boardwalk just in front of the Hyatt as well. spectacular for night shots too.
15. Wharfs of pier one.
Gives you an almost warehouse look! A real urban feel. Beauty of this location is it's only a short drive to Observatory Hill as well as Hickson park. So again, can offer a real lot of variety to your location photography.
16. Intercontinental Hotel, or any hotel for that matter.
I love this hotel, the inside is stunning. The majority of Sydney city hotels have pretty spectacular foyers. Some with bars and coffee shop that can make awesome photo locations, especially in wet weather. Or even in conjunction with your outdoor photos. Create a complete contrast and give your images a completely different look. Here's a tip. If you love a particular city hotel but are not having your reception there, call them before the day and ask if your bridal party can come in for drinks/cocktail or coffee and book a table. Many are happy for you to call in and take some photos while you are there. Note, not everyone is completely amicable to this, particularly if they have other bridal parties celebrating their reception on-site, so always call and get approval first.
17.  Sydney Uni.
Manicured to perfection. Sandstone, more sandstone, and more sandstone. The arches and ivy are truly spectacular and the gardens and walkways are just in a world of their own. This location is for those that love immaculate romantic settings. It has really long undercover walkways, so again perfect if you happen to get a little rain on your wedding day. It truly is a well kept, neat, and structured location. You can park on-site which makes things super easy for everyone. Bookings are essential for access, so just call the University. If you are after old-world grandiose charm this location is definitely for you, it's very, very. ROMANTIC!
 18. Quirebee Park, Lavender Bay.
On the Northside as well. It's a tiny park, but right on the water. Backgrounds to your images would include Luna Park and the City/Harbour bridge skyline. Sunsets are beautiful from this vantage point. And if you are up for a short walk there is a gorgeous old wooden jetty, that is super cute. No bookings required for photos.
19. Luna Park.
Who doesn't love this Sydney Icon. A few shots out the front and a bit of fun to your album, you can walk in and get some shots with the rides in the background as there is no entrance fee. It's in an absolutely perfect spot, turn around 180 degrees and you have a magnificent view of the bridge. This is never a sole location for me, but usually, a request if a bride and groom are having a wedding reception close by, or if we have been to The Quirebee park as its only a short drive away.
20. Court House
Opposite the station, (Circular Quay). It's a fantastic building, again following on from the rocks feel. Old world, fantastic architecture. And I just love that big old fashioned Clock! No permit required. And you can get right up on the amazing sandstone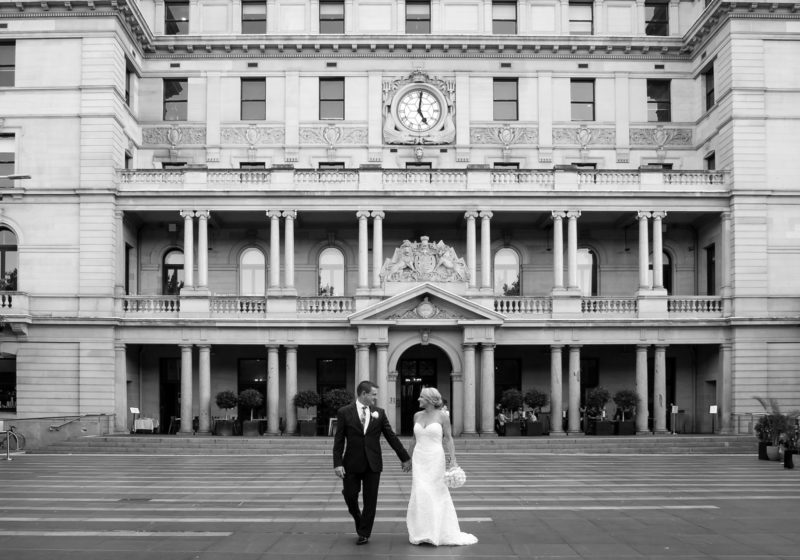 21. Mosman.
If you are getting married at the NAvy Chapel, then this one is a must, even if you just stop there for a few pictures. The lighthouse brings with it spectacular skies. Great for some scenery photos, and obviously quite sentimental for the navy folk!
So there you have it. My favorite 20 (21 actually-the list seems to be growing) wedding photo locations in Sydney. So much choice, and if you have the time, you can quite easily get through a couple of these locations. Good timing is definitely the key. Traveling within the city can be very slow with traffic, and parking, so be sure to discuss your options with your photographer. It would be a shame not to get to at least two of these locations on your wedding day.
© by Diamond Portraits.
For more information of planning the right amount of time for your photos session, or some information about package and prices for wedding photography feel free to contact Cathy here Contact
To contact Sydney city councils and enquire about permits https://www.cityofsydney.nsw.gov.au/council